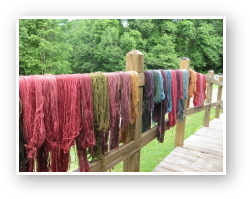 Photo Credit: Casey Ryder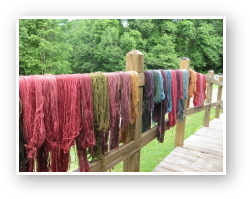 INSTRUCTORS & CLASSES
Dana Fadel, weaver extraordinaire.
We are excited to welcome Alyssa Allen this year who will be teaching mushroom dyeing and shibori.
Bristol Ivy , knitwear designer and lover of all things fiber.
Casey Ryder, program director and go-to lady will be facilitating your week and making sure it is unforgettable.
FIBERY FIELD TRIPS
This year we will be visiting the studio of fiber artist Katharine Cobey as well as Springtide Farm, a cashmere goat farm in Bremen, Maine.
FACILITIES
Hosted at our Retreat Center, Medomak's guests enjoy beautiful pine and oak woods, a sparkling clear lake just down the hill, fields of ripe blueberries, and simple, rustic, yet comfortable cabins complete with full bath. Start your day off with an energizing yoga class or a morning walk. You may also choose to have a relaxing afternoon massage by our licensed masseuse! The learning spaces vary from rooms in our historic lodge, to an outdoor amphitheater; from rocking chairs on our porch to seating around an outdoor campfire. Meals that will be dreamt about for months are served family-style in our dining hall or outside at picnic tables on the front lawn. Our aim is to make you feel at home.