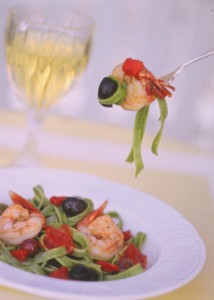 Join Chef Michael to learn how to make pasta, enjoy wine and lots of scrumptious food! Techniques include making the dough, coloring and flavoring different pastas, rolling out and cutting various shapes of pasta, filling pastas such as raviolis and tortellini and cooking pasta. Specific dishes include: Spinach Fettuccine Puttanesca with Shrimp, Farfalle with fresh Tomato, Basil and Roasted Garlic, Green Pea Ravioli with Lemon and Olive Oil and Potato Gnocchi with Lobster and Asparagus.
Our Maine cooking classes are informative, entertaining, and of course, filled with delicious food. Weekend packages are $357 – $575 and include two nights lodging and enrollment for one in the cooking class. Also included are breakfast each morning, afternoon cookies and tea, and a gourmet candlelit dinner for two.
Additional enrollment into our Maine cooking classes is $45 per person. Classes are held on Saturdays and/or Sundays from 1-3pm.