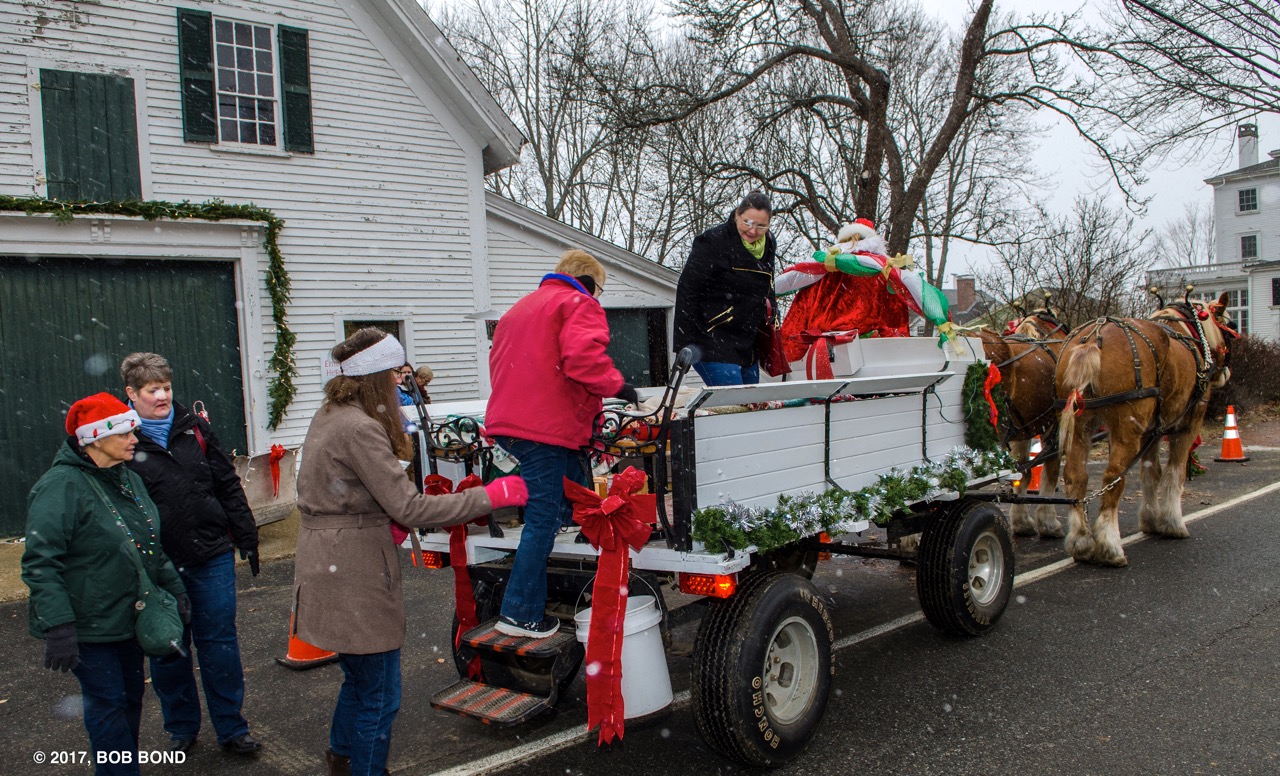 Wiscasset Holiday Marketfest Welcomes Shoppers and Families
Wiscasset Village is preparing for the 2018 Holiday Marketfest with fireworks, music, Santa, caroling, sales, and lots more! From Thursday, Dec. 6 through Sunday, Dec. 9, Village shops will be open from 10am to 6pm (some even later) for holiday shopping. Each day offers special features to entice shoppers, welcome families, and put everyone in a festive holiday mood!
Light up Wiscasset on Thursday, Dec. 6, from 5 to 7pm, as the Creamery Pier on Rte. 1 will be aglow with fireworks. Santa makes a visit while Christmas caroling and hot cocoa warm the spirit as children, with their families, enjoy the riverside attractions.
Friday, Dec. 7, will be a shopping extravaganza as the unique Village shops offer special one-day sales. You'll check off everyone on your list as you peruse the abundance of great holiday gifts! Plus you could win a pair of GARDENS AGLOW tickets when you shop today! The POP-UP shops also open today: Maine-made Crafts at the Congregational Church, 28 High St., and Farm & Garden Gifts in the Nickels-Sortwell barn on Federal St. where a new Marketfest feature, an exhibit of wreaths decorated by local businesses, will be on display. The historic Nickels-Sortwell House will open its doors to the public to tour the house in holiday splendor as envisioned by local floral designers. Be sure to sign up for the Parks and Recreation Dept.'s Gingerbread Workshop for families. Gingerbread House provided, along with decorations, and take it home when you're done!
Family Day on Saturday, Dec. 8, begins with a shopping event just for kids. Wiscasset Public Library invites children to shop for their loved ones with the help of library elves. Wrapping available and Fritz the Reindeer Dog will be on hand for photos and slurpy kisses! The Woodfield Farm horse and wagon shuttle will be taking shoppers from place to place and Sarah's Café will be offering a Tidbit Station in the Nickels-Sortwell barn from noon to 3pm. On the menu are mini-grilled cheese sandwiches, crab cakes, and hot wassail. At the Craft Show, Congregational Church members will be preparing chili, sandwiches, and specialty baked goods – eat in or take home. The day ends with a festive Snow Ball, another new Marketfest feature, at Water's Edge across the Rte. 1 bridge in Edgecomb, from 7 to 10pm. Come in holiday attire, dance to Salty Dogs, and feast on hot hors d'oeuvres – all for $20 in advance. Tickets available at the Wiscasset Area Chamber of Commerce, 297 Bath Rd.; First National Bank, 39 Gardiner Rd., or BIRCH, 72 Main St., all in Wiscasset.
On Sunday, Marketfest comes to a close with a last look at the Nickels-Sortwell House in inspiring holiday décor and last-minute shopping in the barn. The People's Choice award for best decorated wreath will be awarded.
Wiscasset Holiday Marketfest 2018 is a Wiscasset Area Chamber of Commerce event. Major Sponsors are Carl M.P. Larrabee Agency, Carriage House Gardens, First National Bank, Midcoast Federal Credit Union, Norm's Used Cars, Red's Eats, and Wiscasset Ford with additional support from Rock Paper Scissors. FMI: www.wiscassetholidaymarketfest.com.