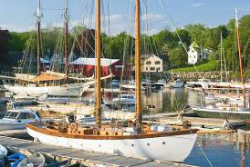 Visit an authentic variety of Maine destinations and enjoy theatre, sailing aboard historic windjammers and two relaxing rides by rail of course. While in Camden, enjoy a Two-hour private tour while in Portland; visit the Portland Headlight, one of the most photographed lighthouses in the USA.
Itinerary:
Day 1 – Travel to Brunswick for overnight stay with dinner and morning breakfast.
Day 2 – Travel to Rockland / Camden for a Two-Night Stay (private sedan transfer included).
Day 3 – Windjammer Sail in Camden or Rockland plus a Two-hour tour of the area.
Day 4 – Travel back to Brunswick and the Downeaster to Portland for a One-night stay (private sedan transfer to Burnswick).
Day 5 – Check bags with front desk before heading out on a Portland Trolley Tour followed by your return train back to Boston.
PACKAGE INCLUDES:
Round-Trip Amtrak Downeaster
Round-trip Transportation to Rockland/Camden (provided by round-trip transfers).
One-Night Hotel in Brunswick including breakfast and dinner.
Amtrak station transfers where needed
Two-Night Hotel in Rockland or Camden
Two-Hour tour of Rockland/Camden Area
Windjammer Sail
One-Night Hotel in Portland
Portland Trolley Tour
All Taxes
For more information please visit our website Downeaster Packages